Since autumn 2022, Areas has been renewing and enhancing its food and beverage offer in Hall 2 of the Gare de Lyon to better meet the expectations of passengers and residents alike. In particular, the mezzanine has been renovated to accommodate Hoppy Brasserie, a concept created by Areas in collaboration with Parisian brewer Gallia.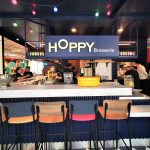 As soon as you take the first steps up to the mezzanine in hall 2, you're immediately drawn to the colored light bulbs on the ceiling of the new Hoppy Brasserie a few meters up. Through the large glass walls of the storefront, visitors are drawn to the warm, urban ambience.
Created in collaboration with the Gallia brewery (HEINEKEN Group), Hoppy Brasserie is a new convivial space that welcomes travelers and residents to meet up, take a break, cowork and share, over an authentic dish or a beer at the counter…
Make way for the artists!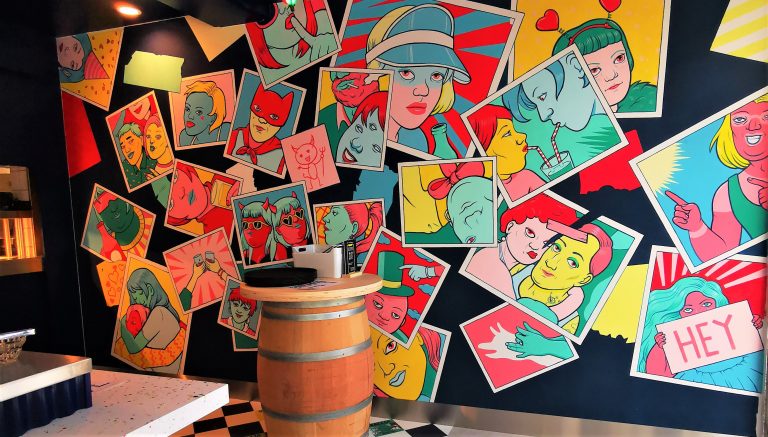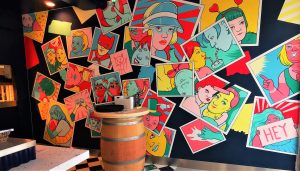 In an acidic decor featuring three large, colorful frescoes by the Weird Walls artists' collective and carefully chosen bio-sourced and vintage furniture, the pop design of local beer is everywhere, right down to the brasserie's checkerboard floor.
The Guinguette spirit is here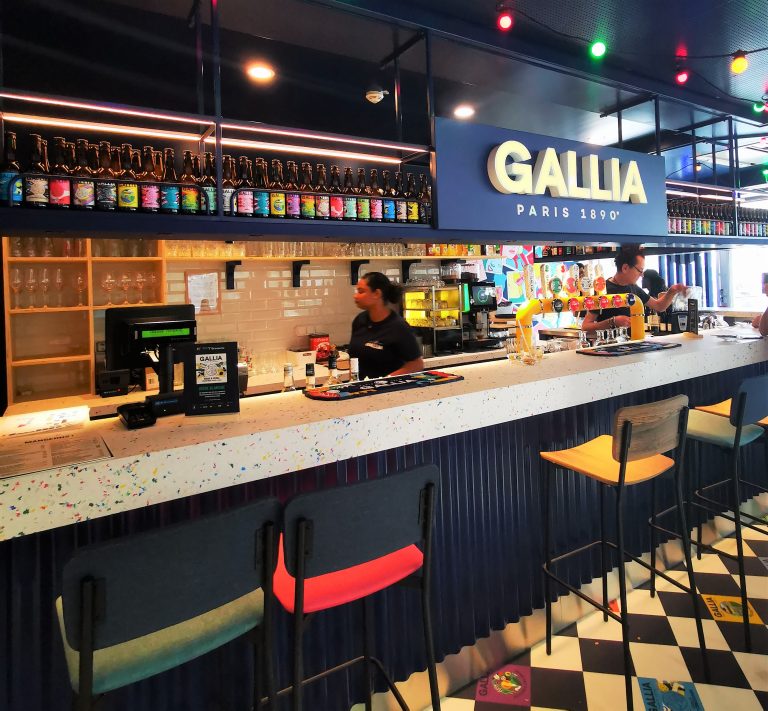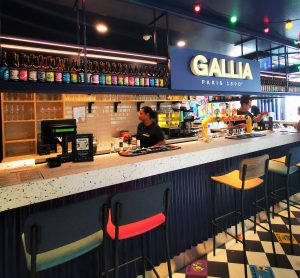 A large part of the Gallia range is featured (and à la carte): for a perfect match, the à la carte menu proposes a food and beer pairing for an optimal taste experience. Four Gallia draught beers and two Gallia bottled beers allow customers to choose from the best of the Gallia range.
The menu is designed by Cyrielle Boutaud, Areas' executive chef, and features French gastronomic classics and reinterpretations of world cuisine.
"Hoppy Brasserie has been designed to welcome both travelers passing through and working near the Gare de Lyon, all in a guinguette spirit conducive to escapism. In keeping with new trends, we wanted to offer a modern, short menu, as well as an emblematic brand of beer," says Yves Lacheret, CEO Areas France.
In fact, since autumn 2022, Areas has been progressively enhancing its catering offer in Hall 2 of the Gare de Lyon to better meet the expectations of passengers and residents alike.
A renewed catering offer in Hall 2.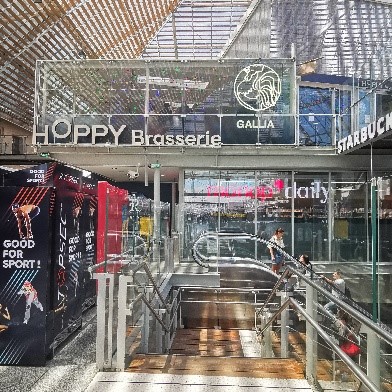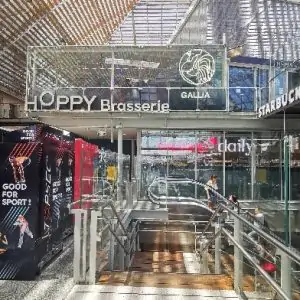 A Starbucks also opened on the mezzanine and Areas created a relaxation area where passengers can sit back and relax in a winter garden-like environment. From the calm of the mezzanine, they have a view of the entire concourse, the platforms, and the train display panels.
The refurbishment of the mezzanine is part of a wider renovation of the food and beverage offer in Hall 2 of the Gare de Lyon, due to start in autumn 2022. This program has enabled us to rethink and renovate certain brands, such as Monop'Daily, which has increased its sales area, and to welcome new offerings such as Roberta Caffè, Maison Pradier and Dalloyau. On platform 23, Paul offers a brand-new, digitalized customer experience with ordering terminals, digital signage, and improved signage.
About Areas
International leader in food&beverage and travel retail. With presence in 10 countries, the company manages more than 2,000 restaurants and stores throughout Europe and America.
With a team of 20,000 people and locations in the main transport hubs in the world (airports, train stations, travel plazas in highways), as well as leisure parks, Areas provides service to more than 350 million customers every year.
Founded in 1968 in Barcelona, Areas is committed to offering high quality services to travelers. Since then, Areas has become a global benchmark operator in the industry, with a deep knowledge of the travelers' needs and the widest range of restaurant concepts in the market.
In France, one of the core countries for Areas, the company consolidates its leading position in the food&beverage and travel retail market; with a large presence in four markets throughout the country: motorways, train stations, airports and leisure centers. Beyond Motorways, Areas also operates in nearly 39 railway stations, including the main stations in Paris (Gare du Nord, Gare de Lyon, Gare Montparnasse and Gare de l'Est), with a range of concepts adapted to the size, location and customer profile of each station.
Areas is also one of the main operators in the French airport markets with presence in landmark airports such as Charles de Gaulle, Orly, Toulouse or Lyon, where it has developed strong partnerships with successful brands and renowned chefs. Areas also manages the catering and food stores at all Center Parcs in France.
For further information
Víctor Palacio – v.palacio@romanrm.com
Carla Buj – c.buj@romanrm.com
Collectif Weird Walls :
Weird Walls : www.instagram.com/weirdwalls_
Emilie Rouge : https://www.instagram.com/emilierouge
Thomas Rebischung : https://www.instagram.com/thomas_rebischung
Andrei Cojocaru: https://www.instagram.com/andrcjcr
---