The leading company in food&beverage and travel retail implements, for the first time on the Travel Channel, this new format as an alternative to plastic and paper, in favor of new circular options.
It is a pioneering initiative in Spain created by Cupffee, a startup that won the 'Areas For Change Challenge', in the sustainability category, for its food technology that creates edible and biodegradable coffee cups.
Cupffee cups will be available in Deli&Cia brand establishments located in the airports of Barcelona, ​​Palma de Mallorca, Alicante and Ibiza.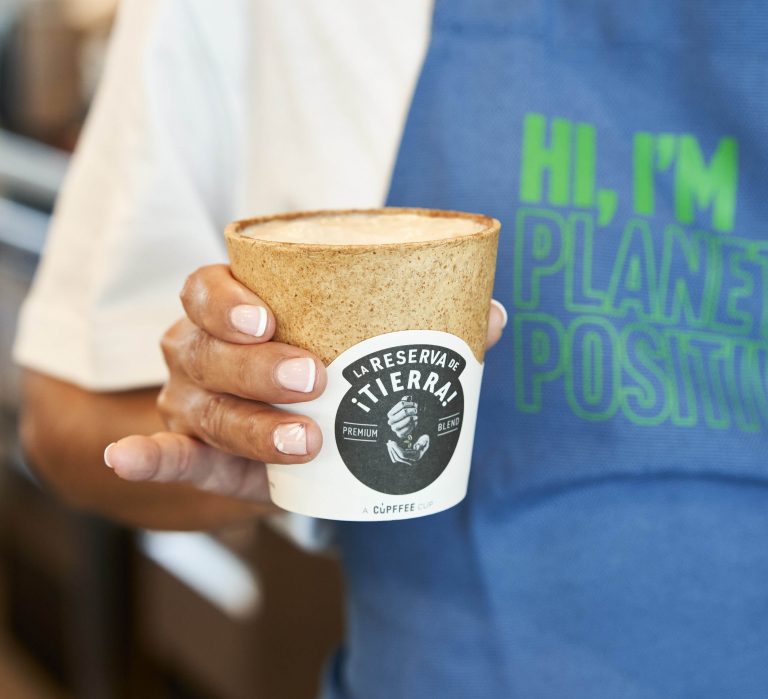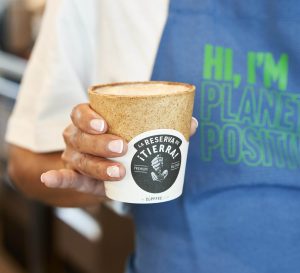 Barcelona, July 20th 2023
Areas, a leader in food&beverage and travel retail, with world headquarters in Barcelona, ​​has introduced, for the first time on the 'Travel Channel', edible and biodegradable coffee cups created by the Bulgarian startup Cupffee as a sustainable and tasty alternative to the traditional plastic and paper cups.
Under the claim 'nice to eat you', the food technology startup has created edible biscuit cups, made from natural products, low in calories and available in two formats (110 ml and 220 ml). This product, a pioneer in Spain, is especially suitable for serving products such as coffee, since it is highly resistant to heat and humidity, remaining crunchy for up to 40 minutes and leakfree for a day once the drink is placed inside.
The implementation of this new product stems from the 'Areas For Change Challenge', developed in collaboration with Eatable Adventures, one of the world's leading Foodtech accelerators. This challenge is part of the company's global ESG strategy, 'Areas for Change', which focuses on people, the planet and the future of mobility.
Sold in Deli&Cia establishments
Cupffee coffee cups have already been implemented in Areas establishments. Specifically, the company has introduced this new product in the Deli&Cia located at the airports of Barcelona, ​​Palma de Mallorca, Alicante and Ibiza. Moreover, to offer a 100% circular experience, the coffee that Areas will serve in these glasses is organic, sustainable and environmentally-friendly.
The company has chosen to implement Cupffee in Deli&Cia because it is an establishment highly committed to sustainability and to the circular economy. In this sense, the construction of these establishments is made with recycled materials, and its gastronomic proposal is healthy and special importance is given to providing its commercial offer with ecofriendly packaging.
Deli&Cia is an own Areas brand that was born in Spain in 2013 with the opening of its first store in Palma de Mallorca, and which currently has 28 stores in 7 countries (Spain, Portugal, USA, Mexico, Chile, France and Italy). The brand is present in the main Spanish airports, including Madrid Barajas, Barcelona, ​​Palma de Mallorca, Ibiza and Alicante.
Miroslav Zapryanov, Founder and CEO at Cupffee: "We are proud to announce Cupffee's pioneering partnership with Areas, the leading company in food & beverage and travel retail. Our delicious, biodegradable, edible cups will be served at Deli&Cia establishments in major Spanish airports, in our collective step towards sustainable change. Together, we're revolutionizing the way travelers enjoy their coffee, prioritizing sustainability and taste in every sip, and driving the circular economy forward. Shaking up the travel retail one Cupffee at a time, while offering more taste and less waste! That's the power of innovation in sustainability!"
Blanca López, Areas Communication, CSR & Customer Experience Director, stated that "the 'Areas for Change Challenge' project sought to respond to the company's own challenges for the coming years and those of the Food & Beverage and Travel Retail sector, with a focus on 3 categories: sustainability, gastronomy and digitization. Cupffee was the winning company in the vertical sustainability for its circular proposal and for the disruption of the proposal."
About Cupffee
Cupffee is an Eco-FoodTech company that manufactures biodegradable edible coffee cups made of entirely natural ingredients designed to provides a green solution to global waste. Cupffee is driven by its mission to pioneer a shift from disposable to sustainable coffee experience and to empower consumers to save the planet one Cupffee at a time. We have a patented technology, numerous business awards and global clients spanning the EU, Middle East, USA, and Australia.
About Areas
International leader in food&beverage and travel retail. With presence in 10 countries, the company manages more than 2,000 restaurants and stores in Europe and America.
With a team of 20,000 people and locations in the main transport hubs in the world (airports, train stations, travel plazas in highways), as well as leisure parks, Areas provides service to more than 350 million customers every year.
Founded in 1968 in Barcelona, ​​Areas is committed to offering high quality services to travelers. Since then, Areas has become a global benchmark operator in the industry, with a deep knowledge of the travelers' needs and the widest range of restaurant concepts in the market.
Press Contact | Roman:
Víctor Palacio: v.palacio@romanrm.com  +34 677 782 370
Carla Buj: c.buj@romanrm.com +34 667 73 78 73
---